PennCares is a community-based organization that provides early intervention, work opportunities, and life-long support services, addressing the full continuum of care with dedication, skill, and a commitment to quality support and individual empowerment while promoting independence.

PennCares offers a selection of services for people with disabilities and their families, designed to help individuals to continue to live well in their communities and have control of their lives. Our services and supports are responsive to the individualized needs of each person and their family.
History
Formerly UCP of South Central PA, PennCares has been serving the region for over 50 years.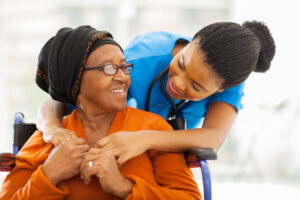 In 1962, we began our work in the south central region of Pennsylvania as a small service provider and advocate for children with disabilities.
We're here for you… for over 50 years, growing with our neighbors and broadening our offerings across the four-county area and beyond to meet the individualized needs of children, adults and seniors with disabilities—and their families—with kindness, consideration, and competence. PennCares respects the dignity and worth of each person, and we stand ready to serve you.
If you need support—from extra assistance recovering from a surgery or other health event, to therapeutic interventions or playgroups for your young child, to personal care and companionship in your home and more—we are, as we've been for more than half a century, here for you.
Leadership Team
Our leadership team is dedicated to developing the most high-caliber services organization in the region. Below you will find contact information for our directors, and we welcome you to reach out if you have need.
Deborah S Allen
Executive Director
PennCares Support Services

Roger L Beins
Chief Operating Officer
Menno Haven, Chambersburg, PA
Rosalind Brendle
Retired
Hanover, PA

Scott Burns
CA Weber Agency
Commercial Insurance, Hanover, PA

Doug Cooper
Local Sales Manager
Comcast Spotlight, Hanover, PA

Felicia Vaughn
Self Employed
Felicia Rose Communications, Mechanicsburg, PA
Lynn Frick
Director, Finance & Administration
Summit Advisory, Inc.

Scott Ganley
United Lutheran Seminary
Gettysburg, PA
Daryl Hewitt
Mobile Therapist/Behavior Specialist
T.W. Ponessa & Associates Counseling Services, Inc

Lisa Lowrie DSW, LSW
Director of Advocacy & Consumer Relations,
The Bradley Center, Pittsburgh PA

Hanover
(717) 632-5552
Main Office
788 Cherry Tree Ct.
Hanover, PA 17331
York
(717) 767-6300
 
127 W. Market Street
York, PA 17401
Chambersburg
(717) 267-2672
"The Avenues"
550 Cleveland Avenue Suite 209
Chambersburg, PA 17201